Suntrans™ "electromagnetic coupling thermal unit", to help DAFu Bengbu headquarters zero carbon development
In order to build the "on-site zero emission" industrial park, DAFu Bengbu Headquarters Park adopts the "overall flexible intelligent power distribution system" of Suntrans™, realizing the construction of digitalization of infrastructure, electrification of energy use, intelligent strong electricity and intelligent management and control, ensuring the safety and reliability of the system, and laying a solid foundation for the intelligent operation and maintenance of extreme energy saving.
After more than two months of construction, on January 10, 2023, the hot water preparation system was put into use efficiently and stably in the "first zone" of the thermal system with six "electromagnetic coupling thermal units", which opened a new chapter of green development of Bengbu Headquarters of DAFu Technology.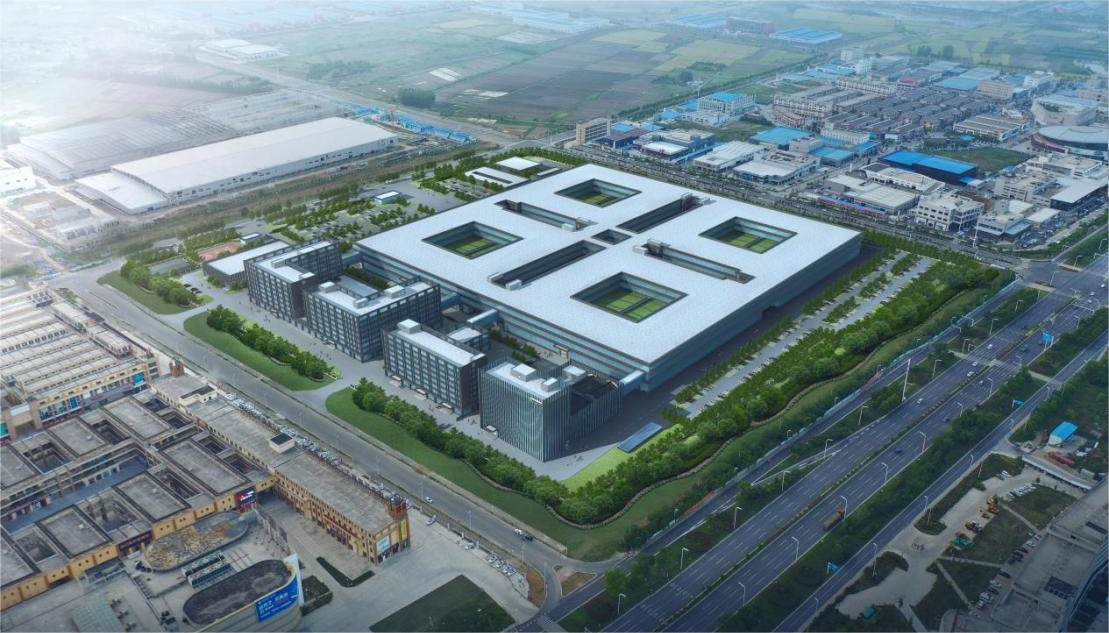 The following is a detailed introduction
01
Overview of electric energy substitution
The heating system of Bengbu headquarters apartment of DAFu Technology mainly guarantees the hot water needs of employees in the apartment. There are 516 apartments, designed to accommodate 1,872 employees.The owner responds to the national "14th Five-Year" Building Energy conservation and Green Building Development Plan "on the implementation of building electrification project...... to give full play to the advantages of cleanliness, availability and convenience of electricity consumption in the building terminal, and establish a building energy consumption system with electricity consumption as the core."And the spirit of the Guiding Opinions on Promoting Electric Energy Substitution (No. 1054 [2016]) jointly issued by ten departments, including the National Development and Reform Commission, the National Energy Administration, the Ministry of Finance, the Ministry of Environmental Protection, the Ministry of Housing and Urban-Rural Development, and the Ministry of Industry and Information Technology.The thermal option of the project is all-electric construction -- Mitagawa's innovative "electromagnetic coupled thermal unit" high efficiency equipment is selected as the heating and hot water manufacturing solution for the dormitory heating system.
02
Valley power and energy storage solutions
Valley storage and power demand side response (ADR) are common basic configurations in "integrated flexible intelligent distribution system".This project uses six 150kw thermal units, two 54 cubic meter heat storage water tanks, and the whole valley electric energy storage and heat storage scheme. With the help of artificial intelligence (AI), the system only works for 9 hours during the valley power period (23:00 to 08:00 the next day) to meet the demand for hot water supply of the apartment all day long. Compared with the traditional hot water system scheme, more efficient, more intelligent, more energy saving, lower cost.Combined with Bengbu local TOU electricity price policy (more than 3 times price difference), annual electricity cost can be saved about 800,000 yuan.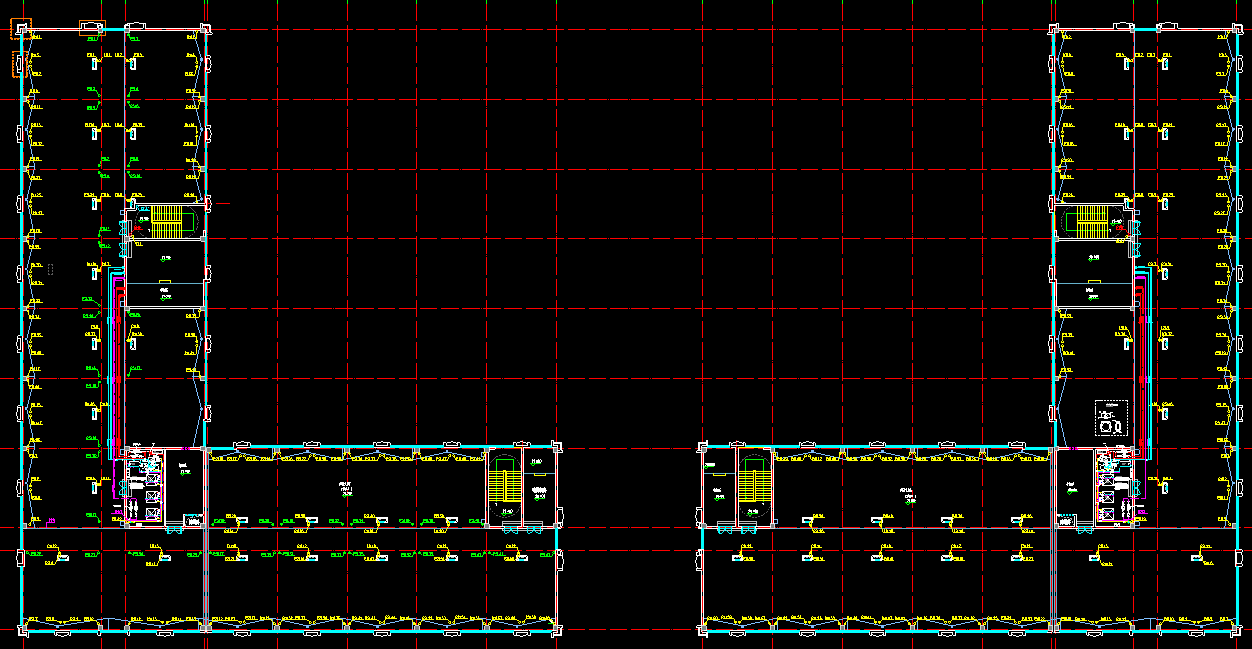 (Plan diagram of heating system)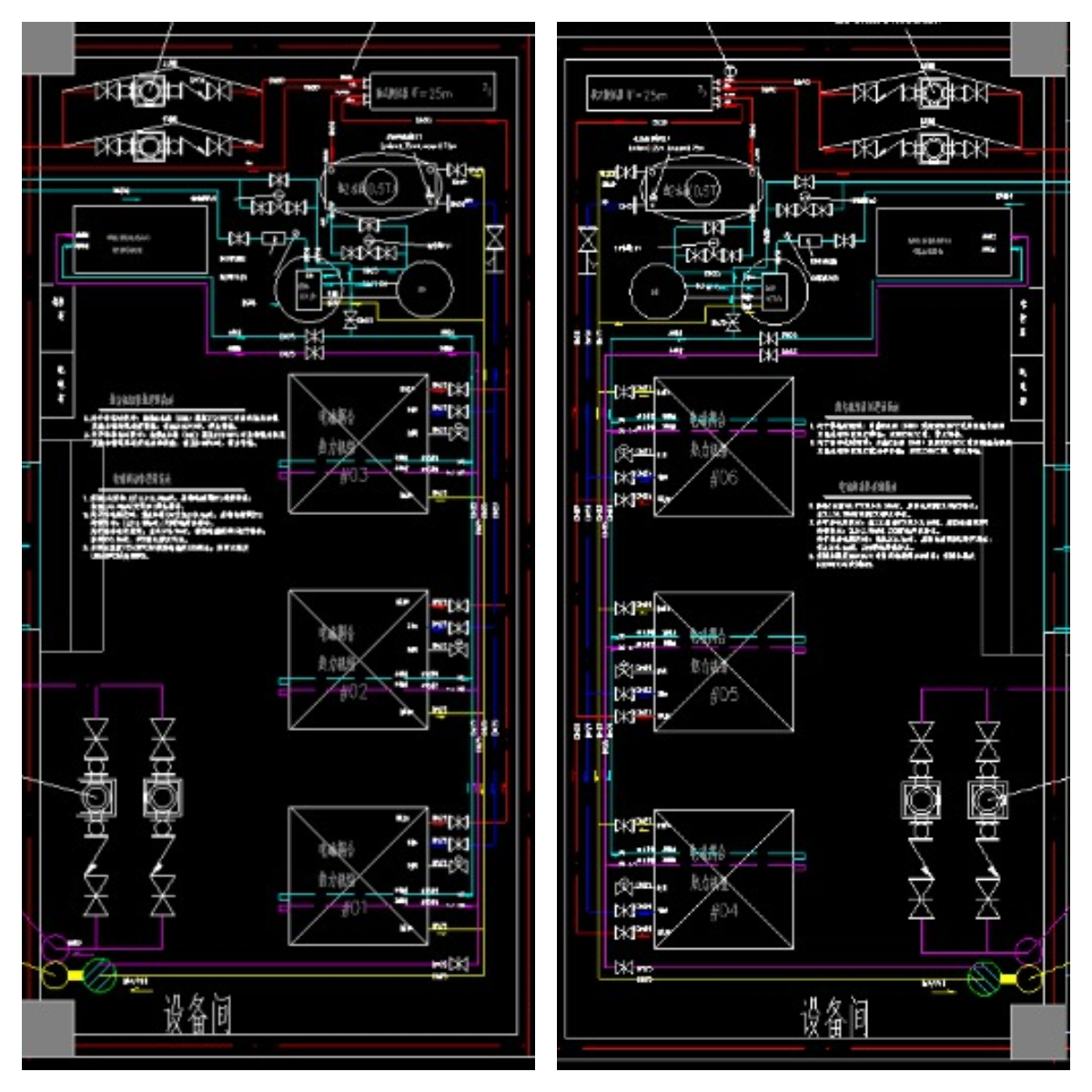 (Schematic diagram of heating system room)
Suntrans™ innovative electro-thermal coupling unit based on the mechanism of electromagnetic "hysteresis thermal Effect" (no contact between heated materials and current) is a new generation of heating and heating equipment based on the Intelligent Internet of Things (AIoT) with zero emission, zero pollution and zero labor. It is also an intensive and intelligent new equipment to provide high temperature and high pressure steam.The heat conversion efficiency of the equipment is as high as 98%, and the heating speed is fast. The room temperature water can be heated to 180℃ steam in 50 seconds. There is no need for the long-distance heat transmission pipelines of traditional boiler rooms. Each unit covers an area of only 1.5 square meters and can be placed on the roof or basement to realize zero distance from the heat demand side, further improving convenience and efficient heating.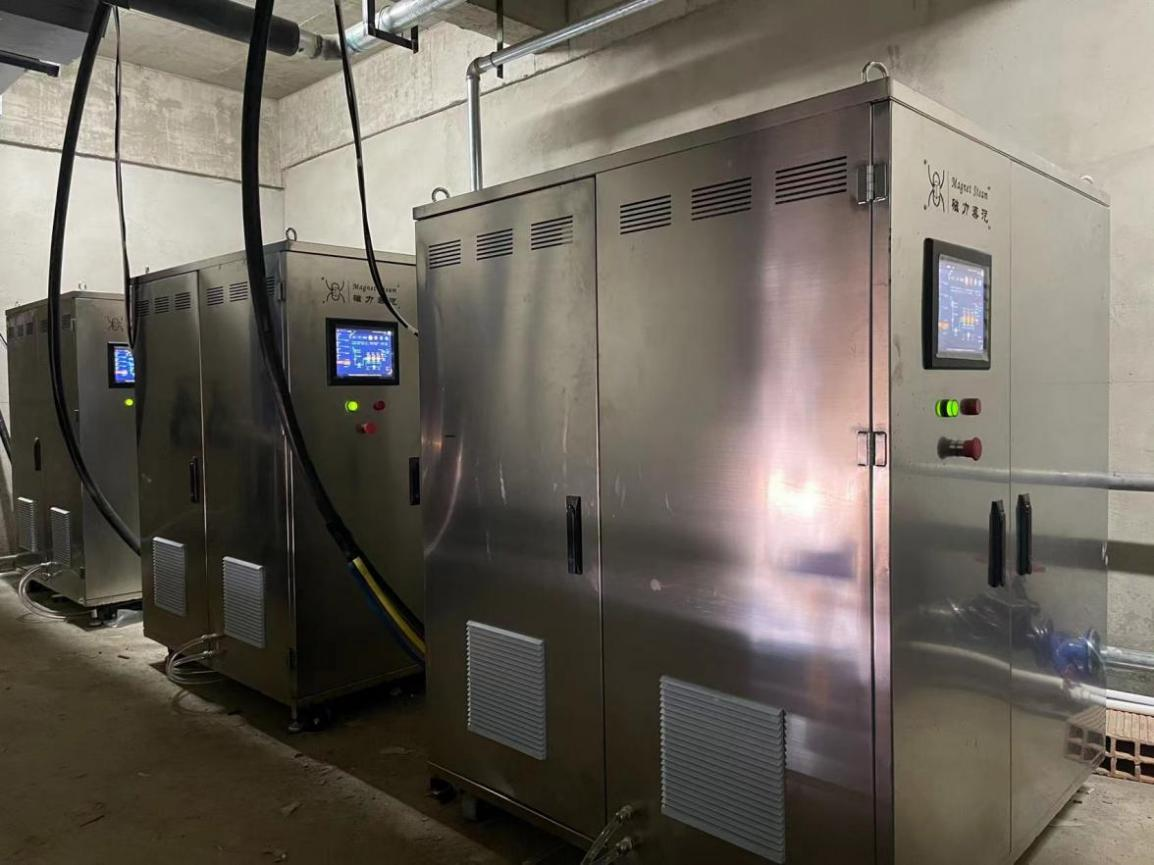 (Physical picture of heating machine room unit)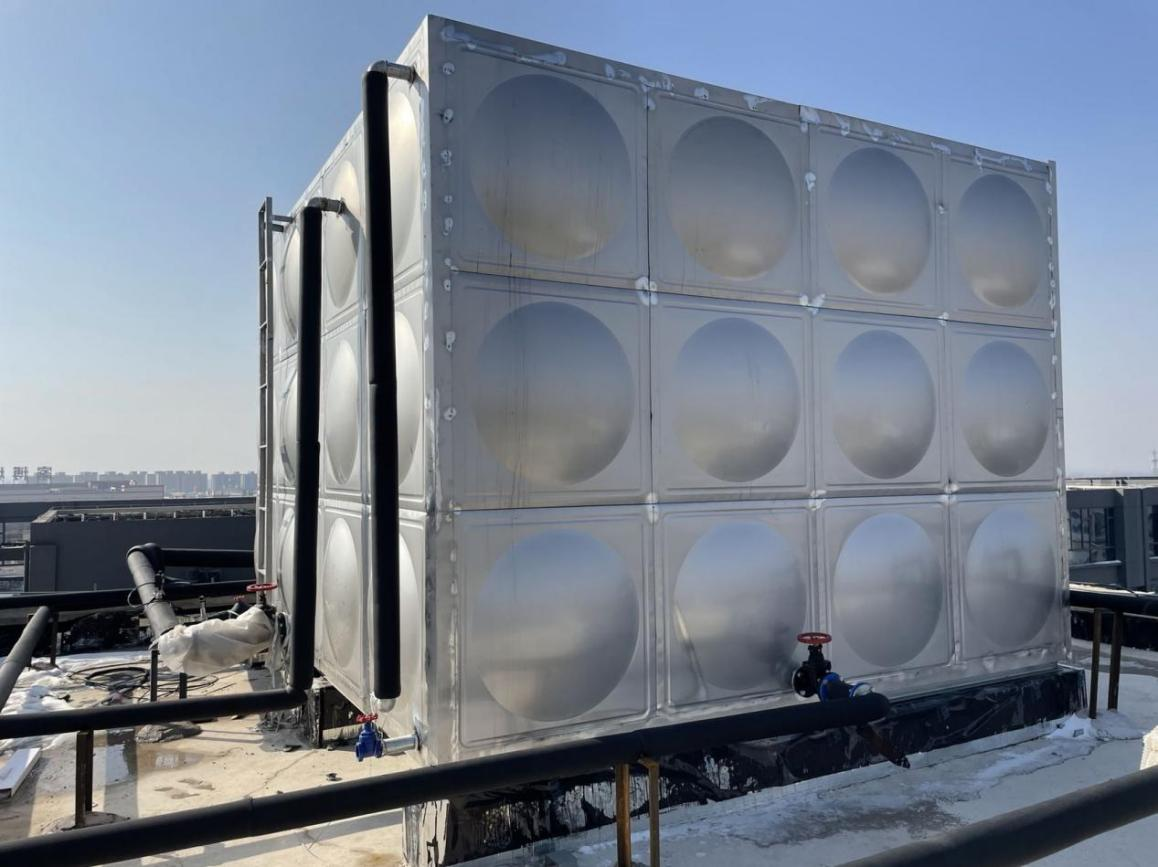 (54T heat storage water tank)
04
Introduction to artificial Intelligence unattended operation and maintenance
The equipment is embedded in the core technology products of Suntrans™, a series of AC zero-crossing flexible power controllers, and the thermal equipment is also incorporated into the "overall flexible intelligent distribution system", becoming a typical Internet of Things terminal, which is one of the important roles of Suntrans™ five energy "water, electric, hot and cold" Internet of Things management and control.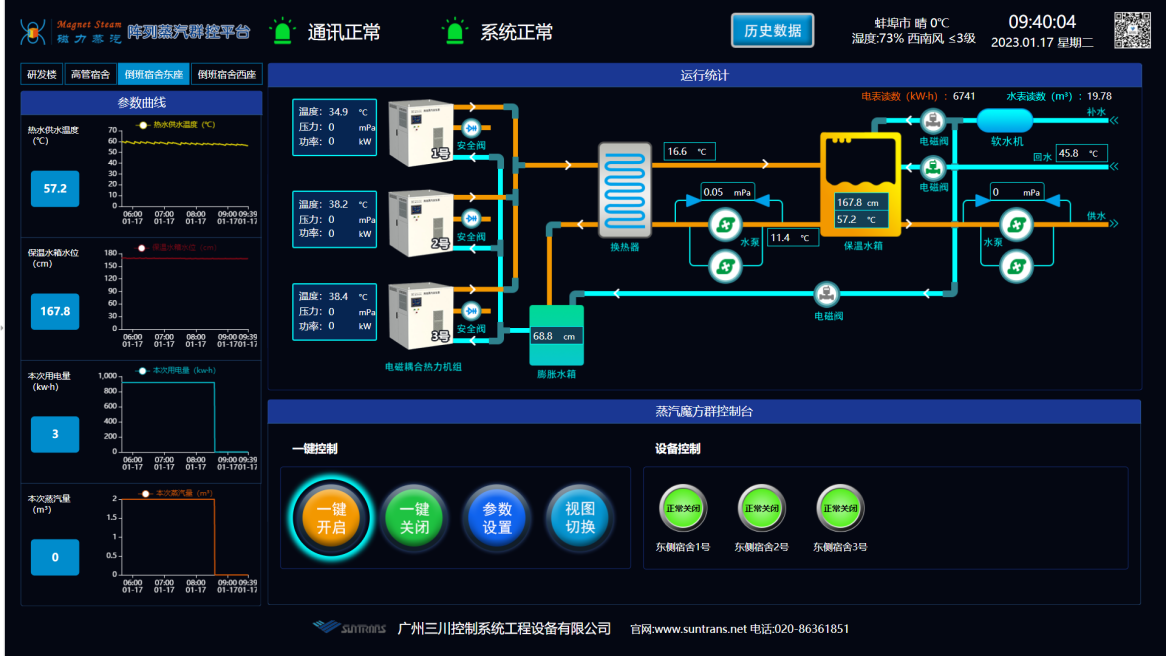 The "electromagnetic coupling thermodynamic unit" intensification thermodynamic system, all the temperature, pressure, flow, electrical and other sensor data echo the cloud, forming a thermal big data system, and under the SuntransPlat cloud platform calculation and control decision, efficient thermal production and operation.The intensive and dynamic optimization operation of an all-directional multi-unit modular thermal power unit is automatically adjusted according to the temperature, pressure and flow rate of hot water by Suntrans™ innovative PDWC closed-loop control algorithm, so that the system can continue to operate in a stable and efficient condition.
Through the collaborative work of the "electromagnetic coupling thermodynamic unit", the project heats the hot water storage tank efficiently under the background of limited power load (without increasing the load of the transformer originally designed), and heats the municipal tap water to hot water with different demand temperatures such as heating and bathing.At the same time, the system can protect the whole process of anomalies in the thermal production process, such as over voltage, over current, under voltage quick break, phase loss, water pressure over voltage protection, and thermal over temperature intelligent protection of gas output, so as to ensure the continuous stability and safety of hot water supply in the dormitory area.
05
Brief introduction to other typical demonstration projects
"Electromagnetic coupling thermal unit" is a new kind of high efficiency, energy saving, environmental protection, lightweight non-special equipment thermal equipment, suitable for all the need for heat scene, can meet the construction, industry, medicine, textile, printing and dyeing and municipal heat, hot water, steam demand of any capacity.Suntrans™ is a high temperature and high pressure steam supply system built for Guangdong Xiangxue Wisdom Traditional Chinese Medicine Industry Co., LTD., which uses 12 sets of electromagnetic coupling thermal units to generate saturated steam production equipment and distributed direct supply of pharmaceutical production equipment, meeting the thermal requirements of the traditional Chinese medicine granule preparation workshop of the Wisdom factory.The steam system is fully run under AI control by multi-module AIoT intelligent optimization operation, which can save energy to the extreme and ensure the production heating system is full of heat, high temperature efficiency, safety and health. In January 2023, it passed the GMP certification.
Suntrans™ has been deeply engaged in integrated energy management and control Internet of Things for 30 years, and is committed to the development and application of "Internet + intelligent energy management and control" technology products and systems, including but not limited to: "Overall flexible intelligent distribution system", "SuntransPLat/IoT cloud platform", and supporting AIoT system edge computing "zero excessive power load controller", electromagnetic coupling thermal unit, etc.More than 200 demonstration projects have been completed in the fields of smart city, smart building, smart campus, smart home, smart water, smart factory, etc., realizing customers' demand-side response and digital building energy control reliably, conveniently and economically.